Steel NYC Emergency Light | 2 or 3 Heads | 54W
Base Code:
EL-ST54
---

Download Spec-Sheet
---
---
Steel Housing Emergency Light approved for New York City. An efficient and secure 12V 12W Heavy Duty Emergency Light with remote head capacity.

UL Listed
This item has been tested and meets safety standards imposed by the Underwriters Laboratories (UL).

Incandescent
This unit produces Indandescent light.

Battery Included
This unit contains a battery for backup power. The battery must be connected during installation.
Features
UL 924 and New York City Code requirements
Universal 120/277 VAC input
Rugged 20 gauge steel housing
Includes two adjustable 12V 12 watts lamp heads
Brown-out protection
Automatic low voltage disconnect (LVD)
Push-to-test switch
Charge rate / power-on indicator light
Specifications
Dimensions
Width
14.5"
Height
10.75"
Depth
2.5"
Weight
20.00 lb
Whats included?
Steel NYC Approved Emergency Light
2 Incandescent Lamp Heads
3rd Matching Lamp Head (extra cost)
Installation Instructions & Hardware
SLA Batteries - Must connect the battery after installation (Located inside unit)
---
Construction
The EL-ST54 series is contructed of 20-gauge die formed cold rolled steel housing
Illumination
The EL-ST54 series is energy efficient, featuring 2 fully adjustable incandescent lamp heads. (3rd head is optional)
Emergency Operation
Upon failure of the normal utility power, an internal solidstate transfer switch automatically provides uninterrupted emergency operation for at least 90 minutes. The fully automatic solid-state, two-rate charger initiates battery charging to recharge a discharged battery in 24 hours.
Electrical Components
Dual voltage input 120/277 VAC operation. LED display indicates AC/ON. An external push button test switch allows maintenance personnel to quickly determine the operational status of the unit.
Installation
The EL-ST54 series unit is suitable for surface wall and end mounting. Suitable for indoor installation.
Mounting Configurations Explained
Dimensions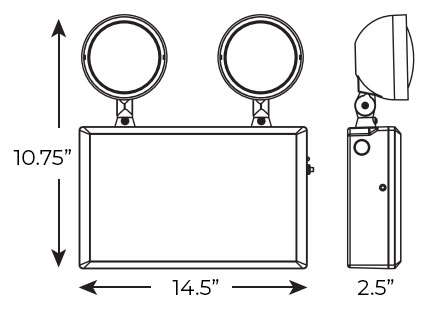 ---
No Questions asked yet!
Post a question and have an expert answer