Non-Electric Exit Signs have increased in popularity over recent years because of their energy efficiency, ease of installation and decreased costs. An exit sign that does not require electricity to operate is clearly the most energy-efficient. Compared to Hard-Wired Exit Signs, Non-Electric Exit Signs don't connect to a building's power supply, which results in a faster & cheaper installation, while additionally reducing long term costs of power consumption and maintenance.
What Non-Electric Exit Sign is better? Let's briefly discuss the difference between Tritium and Photoluminescent Signs and then weight the Pros and Cons.
Photoluminescent (power free) exit signs require no electricity (AC) or battery power to work. They are illuminated via photoluminescence ("glow-in-the-dark"). Since no AC connection is required, installation is incredibly simple and does not require access to conduit, an outlet, or the services of an electrician (minimal installation costs). Since no power is consumed, there is zero lifetime power consumption cost! Since there are no electronics or batteries, these signs also enjoy zero maintenance costs!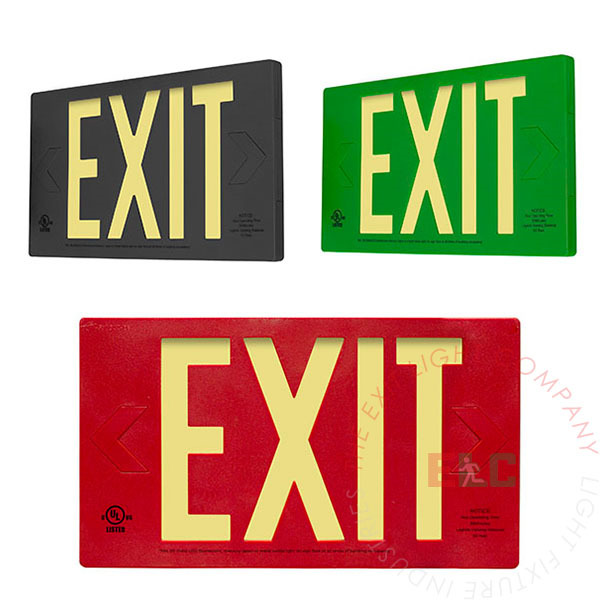 Photoluminescent tape and emergency egress signs absorb and store energy from ambient light (requires 54 LUX -5-ft candles- of fluorescent, LED, metal halide or mercury vapor light to charge material for 60 minutes). In the event of an emergency involving blackout or smoke-laden conditions, the photoluminescent product is immediately visible, providing a safe, illuminated evacuation path. Photoluminescent products can be installed easily in any location with sufficient ambient light source. We carry a variety of photoluminescent exit signs to meet your specific needs.
Photoluminescent Exit Signs last for approximately 25 years with minimal maintenance.
Continue reading "Alternatives to hard-wired Exit Signs. Tritium Exit Signs VS Photoluminescent Exit Sign?" »