Thermoplastic Photoluminescent Exit Signs | 50' and 75' Viewing Distance
Base Code:
PA3

Items marked FAST SHIP typically ship same day if order is placed before noon
---

Download Spec-Sheet
---
---
Leading the industry in zero-energy egress systems, these exit signs utilize the latest photoluminescent technology to absorb and store ambient light. In the event of an emergency with blackout or smoky conditions this stored energy is immediately visible, creating a clearly recognizable, photoluminescent egress indicator. These innovative emergency egress signs reduce the risk of panic or injury during an evacuation, offering peace of mind while eliminating energy costs.

UL Listed
This item has been tested and meets safety standards imposed by the Underwriters Laboratories (UL).

Photoluminescent
This unit uses long lasting, electricity free Photoluminescent Lighting (Glow in the Dark) Technology.

No Electricity
This unit doesn't require electricity or a battery.
Features
UL 924 and NFPA 101 Life Safety Code
Zero energy consumption
Zero maintenance - no bulbs or battery replacement
Non-toxic, non-radioactive
Mounting Options: Wall, Ceiling, and Side
Consistent, uniform illumination, 50' and 75' visibility
Life Expectancy +25 years
Operating Temperature 50°F to 104°F
Previous Product Codes: PAJP
Specifications
Dimensions
Width
16"
Height
9.25"
Depth
0.75"
Weight
8.00 lb
What's included?
Photoluminescent Exit Sign (Red, Green, or Black)
Mounting Canopy
Installation Instructions and Manual
---
Construction
The PA3 Series Exit Sign has a thin, low profile construction with ABS thermoplastic paneling and photoluminescent lettering. This wire-free exit sign is high durability, non-toxic, non-radioactive and has a life expectancy of 25+ years.
Illumination
Provides consistent, uniform illumination at a 50 or 75 foot viewing distance.
Emergency Operation
Upon failure of the normal utility power the PA3 exit sign will provide at least 90 minutes of illumination. *The sign must be charged for a minimum of 90 minutes to become fully operational.
Battery - Battery Backup
The PA3 Series Exit Sign has a thin, does not require any type of battery connection.
Electrical Components
The PA3 Series Exit Sign does not require any type of electrical components.
Installation
The PA3 Series Exit Sign series is suitable for wall mount, ceiling mount, and side mount. Typical ambient lighting is usually sufficient to charge the exit sign. Ambient light levels at sign location should be measured with a light meter to confirm that 5 foot-candles (54 lux) is present on exit sign face(s). There must be a minimum of 5 foot-candle (54 lux) on exit sign face(s) of LED, fluorescent, metal halide or mercury vapor light.
Mounting Configurations Explained
Dimensions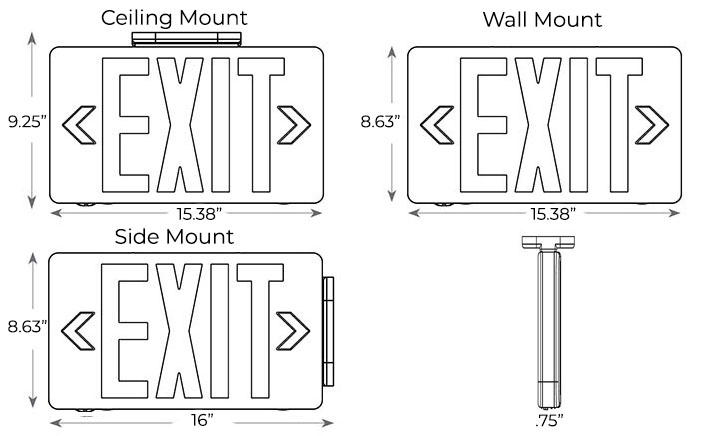 ---
No Questions asked yet!
Post a question and have an expert answer