Aluminum Photoluminescent Exit Sign | Red, Green & Black | 50', 75', and 100' Viewing Distance
Base Code:
PA2

Items marked FAST SHIP typically ship same day if order is placed before noon
---

Download Spec-Sheet
---
---
UL Listed with minimum illumination of 90 minutes up to a distance of 50 feet. No electricity, wiring, nor batteries are required. Charging this glow in the dark exit sign requires 54 LUX (5-ft candles) of LED, fluorescent, metal halide or mercury vapor light for 60 minutes. *Do not expose to direct sunlight.
Unlike power free Tritium exit signs, the PA2 series are convenient and easy to:

UL Listed
This item has been tested and meets safety standards imposed by the Underwriters Laboratories (UL).

Photoluminescent
This unit uses long lasting, electricity free Photoluminescent Lighting (Glow in the Dark) Technology.

Made in the USA
This unit is made in the United States.
Features
UL 924, NEC and NFPA 101 Life Safety Code

Listed for damp location
No electricity, no batteries required
Operating Temperature 50°F – 104°F
Life Expectancy +25 years
Field installable arrow configuration
50, 75, 100 foot viewing distance
90 minutes of illumination
Requires 54 LUX (5-ft candles) of LED, fluorescent, metal halide or mercury vapor light to charge material for 60 minutes
Explosion proof, weatherproof
Indoor installation only
Do not expose to direct sunlight
No future hazmat disposal needed
Aluminum frame available
Previous Product Codes: PA2, PAR2, PAG2
Specifications
Dimensions
Height
9"
Length
16.25"
Weight
4.00 lb
What's included?
RED, GREEN, or BLACK Photoluminescent Exit Sign
Two adhesive arrows
Mounting bracket
Aluminum Frame (No Frame option, removes frame)
Installation Instructions
---
Construction
The PA2 exit sign is made from durable rigid aluminum base.
Illumination
The PA2 exit sign has a viewing visibility range of 50-100 feet (must select desired viewing distance). Provides consistent, uniform illumination.
Emergency Operation
Upon failure of the normal utility power the PA2 exit sign will provide at least 90 minutes of illumination.
*The sign must be charged for a minimum of 60 minutes to become fully operational.
Battery - Battery Backup
The PA2 exit sign does not require batteries to operate.
Electrical Components
The PA2 exit sign does not use nor require any type of electrical components.
Installation
The PA2 exit sign is suitable for wall, ceiling, and side mount installation. For non-framed options, pre-made holes are found on each corner of exit sign for easy wall mount installation or double-sided tape can be used for mounting (not provided). Two self-adhesive chevrons are supplied with each sign that allows for fast and easy field configuration. The mounting bracket supplied, does not come with pre-drilled holes to allow installer to match existing mounting holes if necessary.
Mounting Configurations Explained

View Installation Instructions
Dimensions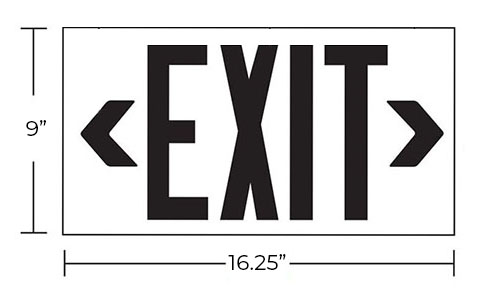 ---
Customer Questions & Answers
Post a question and have an expert answer
Q
Walter E Croteau • 08/13/2023, 9:48:16 PM
On the PA2 EXIT signs, are the Arrows prepunched for removal, or is that a special order item?
A
Exit Light Co.

The PA2 series exit sign comes with 2 adhesive arrows that can be added as needed. No need to specify arrow direction at the time of check out.
Post a question and have an expert answer