Red LED Chicago Approved Exit Sign | UL 924
Base Code:
CHEX-R

Items marked FAST SHIP typically ship same day if order is placed before noon
---

Download Spec-Sheet
---
---
City of Chicago approved exit sign with steel housing and glass face. Now standard with energy saving LED illumination instead of incandescent lamps.

UL Listed
This item has been tested and meets safety standards imposed by the Underwriters Laboratories (UL).

LED Lighting
This unit uses energy efficient and long lasting LED's.

City of Chicago Approved
This product is approved for Chicago City.
Features
UL 924, NEC, OSHA and NFPA 101 Life Safety Code
City of Chicago approved
Universal 100-300VAC 50Hz Operation
Now uses LEDs for improved energy efficiency
Open-face glass panel, silk-screen letters
20 gauge steel housing with white powder coat finish
Universal mounting canopy included for side, top and flush mounting (add 2" for canopy)
NON CEC Compliant
Previous Product Codes: CHEX
Specifications
Dimensions
Width
11"
Height
12.125"
Depth
2.25"
Weight
10.00 lb
What's included?
RED LED Exit Sign
One "EXIT" Faceplate ("STAIRS" faceplate extra cost)
One Blank Faceplate
Faceplate with arrow (extra cost)
Mounting Canopy, Installation Instructions & Hardware
NiCad Battery - Must connect the battery after installation
---
Construction
The CHEX series is contructed from durable 20-gauge steel. Unique design allows double face conversion on field.
Emergency Operation
Upon failure of the normal utility power, an internal solidstate transfer switch automatically provides uninterrupted emergency operation for at least 90 minutes. The fully automatic solid-state, two-rate charger initiates battery charging to recharge a discharged battery in 24 hours.
Battery - Battery Backup
The CHEX series is designed with a maintenance-free battery that provides a minimum emergency duration of 90 minutes. Recharge time of the battery is 24 hours.
Electrical Components
Universal input 100-300 VAC 50HZ operation. LED display indicates AC/ON. An external push button test switch with battery backup units allows maintenance personnel to quickly determine the operational status of the unit.
Installation
The CHEX is suitable for ceiling and end mount via steel mounting canopy.
Mounting Configurations Explained

View Installation Instructions
Dimensions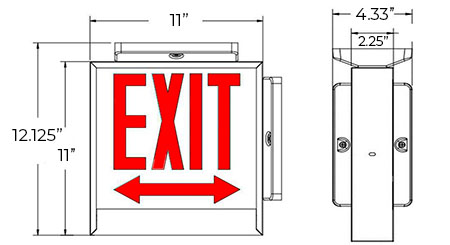 ---
Customer Questions & Answers
Post a question and have an expert answer
Q
Brenda Morris • 12/13/2018, 9:46:25 AM
How do I access the battery?
A
Exit Light Co.

The battery is located at the bottom of the unit. The bottom panel, same panel that the test button and AC indicator light are located on, must be removed. This is done by removing the 2 screws located on the panel. Once the screws are removed, the panel will loosen and it can be removed exposing the battery.
Q
Brighid Payne • 07/30/2020, 4:46:21 PM
can these exit lights work for outdoor spaces as well as indoor?
A
Exit Light Co.

These units are rated for indoor use. They are not rated for outdoor use.
Q
Peter • 08/29/2020, 10:23:06 AM
Is there a warranty on the battery?
A
Exit Light Co.

There is no warranty on the batteries.
Q
Dawson McKay • 08/31/2020, 4:43:50 AM
Are the actual LEDs red, or just the letters?
A
Exit Light Co.

The internal LED's are Red.
Post a question and have an expert answer