Emergency LED Driver | 170VDC | 8-20W Output
Base Code:
EB-LED

Items marked FAST SHIP typically ship same day if order is placed before noon
---

Download Spec-Sheet
---
The EB-LED Emergency Driver turns your LED light fixtures into code-compliant emergency lights. These LED drives provide emergency lighting for a minumum of 90 minutes in an event of power failure. Easy to install and maintain. Includes an illuminated test switch with different functions.
General Applications:
LED Troffer Lights
LED Recessed Lights
LED Vapor Lights
LED Linear Lights

Wiring Made Simple
LED Driver is designed with easy to follow wiring schematic

LED Lighting
This unit uses energy efficient and long lasting LED's.

High Voltage
LED Driver is designed to support high voltage fixtures
Features
UL Listed for factory and field installation
Meets NEC, IBC, and Life Safety Code Emergency Light Requirements
High efficiency performance meets CA Title 20
Ideal for many kinds of indoor LED lighting
Simple Wiring
Self-Testing (monthly/yearly)
Push to test button and AC Light
Single Flex
Specifications
Dimensions
Width
1.97"
Height
.94"
Length
12.91"
Weight
5.00 lb
What's included?
LED Driver
Installation Instructions
Wire Nuts
Push to Test Plate
---
Construction
The EB-LED emergency driver is constructed from durable steel.
Emergency Operation
The EB-LED emergency driver provides a minimum of 90 minutes of battery backup time
Battery - Battery Backup
The EB-LED emergency driver is designed with a maintenance-free lithium battery that provides a minimum emergency duration of 90 minutes. Recharge time of the battery is 24 hours.
Operational Temperature
Temperature Ratings
Standard Option
41°F to 122°F
Self-Testing Option
The EB-LED emergency driver will perform an initial self-diagnostic test for 3 seconds after the diver has been properly installed followed by a second test after 120 minutes to confirm the wiring and battery output. The driver will perform monthly self-test every 30 days for 3 seconds; this will test for wiring and battery output. *A blinking LED or completely off means failed test.
Electrical Components
Model No.
EB-LED-8W
EB-LED-20W

Output Power

8W

20W

Output Voltage

170V DC


170V DC

Input Voltage

100-347V AC, 50/60HZ

100-347V AC, 50/60HZ


Input Power

6W Max

12W Max

Input Current

≤100Ma

≤100Ma


Battery Type

Lithium

Lithium

Recharge Time

≥24 Hours

≥24 Hours


Emergency Time

≥90 Minutes

≥90 Minutes


Luminnare Power

0-10V dimmable luminaire ≤60W
Non-dimmable luminaire ≤8W

0-10V dimmable luminaire ≤100W
Non-dimmable luminaire ≤25W

Installation
The EB-LED emergency driver can be installed in different types of indoor troffers, strip fixures, can lights, and LED ceiling panels. We recommend confirming electrical specs to make sure the LED Driver is fully compatible.
Mounting Configurations Explained
Dimensions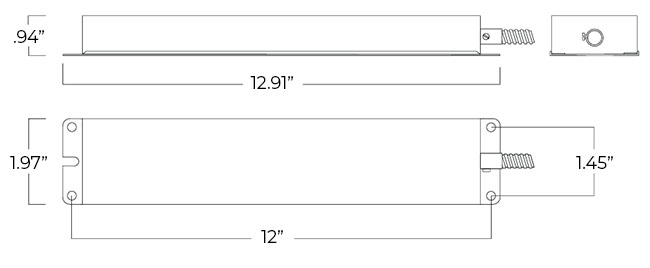 ---
No Questions asked yet!
Post a question and have an expert answer