Low Profile 700 Lumens Emergency Ballast - T5, T8, CFL, or Long CFL Lamps
Base Code:
EB-LFL-800

Items marked FAST SHIP typically ship same day if order is placed before noon
---

Download Spec-Sheet
---
Utilize everyday existing fluorescent lighting as emergency lighting. Emergency battery ballasts allow a linear or compact fluorescent (CFL) fixture to be used during both normal and emergency operation. In the event of a power failure, the emergency battery ballast operates the fixture, powering the lamp for a minimum of 90 minutes from the built-in backup battery.

UL Listed
This item has been tested and meets safety standards imposed by the Underwriters Laboratories (UL).

Fluorescent
This unit produces Fluorescent lighting.
Features
Linear fluorescent lamp emergency ballast
Contains battery, charger and inverter circuit
700 Lumens
Meets or exceeds all NEC and Life Safety Code emergency lighting requirements
90 Minute emergency operation
120/277V 60Hz operation (requires unswitched AC power source)
For use with grounded, UL Listed indoor fixtures
Compatible with all AC magnetic and electronic ballasts (including multiple lamp ballast w/one lamp operating in emergency mode)
Cold starts and operates for 90 minutes one 2' to 4' T5 or T8 lamp
Specifications
Dimensions
Width
2.25"
Height
1.125"
Length
14.25"
Weight
10.00 lb
What's included?
Low Profile Ballast
Wiring Instructions
Installation Hardware
---
Construction
The EB-LFL-800 Low Profile Ballast is designed with a compact heavy duty galvanized steel housing.
Illumination
The EB-LFL-800 Low Profile Ballast has a 700 lumens output.
Emergency Operation
In an event of a power failure, the unit will switch to emergency mode and operate one or two existing lamps for a minimum of 90 mionutes each
Battery - Battery Backup
The EB-LFL-800 Low Profile Ballast is designed with a maintenance-free 8.4V 2000mAh NiCd battery that provides a minimum emergency duration of 90 minutes. Recharge time of the battery is 24 hours.
Operational Temperature
Temperature Ratings
EB-LFL-800
20°C to 50°C / 68°F to 122°F
Electrical Components
Input: 120/277, 60Hz, 186mA/187mA, 3.3W/3.7W
Compatible with the following lamps:
T5: One Lamp - 17W-54W
Two Lamps - 17W-39W
T8: One Lamp - 17W-54W
Two Lamps - 17W-39W
CFL: One Lamp - 32W
Long CFL: One Lamp - 18W-50W
Installation
The EB-LFL-800 Low Profile Ballast is suitable for top installation of fixture, in the wire-way and is also approved for use in sealed gasketed fixtures.
Mounting Configurations Explained

View Installation Instructions
Dimensions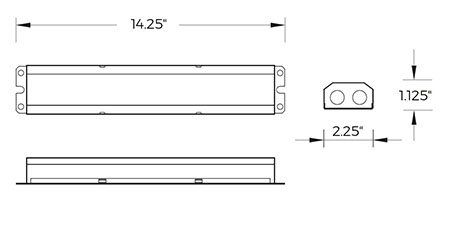 ---
Customer Questions & Answers
Post a question and have an expert answer
Q
JAROSLAW • 07/31/2019, 5:51:05 PM
HI, DOES THE UNIT COME WITH THE TBIL SWITCH? THNAK YOU,
A
Exit Light Co.

Thank you for your interest in our product. Yes, the emergency ballast does come with a Test Button Indicator Light.
Post a question and have an expert answer