Edge Lit Faceplate Panels | Single and Double Sided | Multiple Configurations | Final Sale
Base Code:
ELRT-FP

Items marked FAST SHIP typically ship same day if order is placed before noon
---

Download Spec-Sheet
---
---
The Exit Light Company now offers edge lit faceplate panels for various exit signs – available in different configurations; both red and green lettering. Replacing old, scratched, and faded panels got a lot easier. No longer need to replace complete units.
Disclaimer: Exit signage comes in different shapes and sizes, The Exit Light Co., Inc cannot guarantee they will fit third-party signage. Please ensure the fit is correct and suitable for your project. Note that these are FINAL SALE and NO RETURNS or EXCHANGES will accepted.
Compatible Exit Signs:
How To: Replace battery and faceplates

Features
Acrylic Construction
6" Lettering
Field Installable Arrows for Left, Right or Both directions
Specifications
Dimensions
Height
7.37"
Depth
.37"
Length
11.18"
Weight
5.00 lb
What's included?
Edge Lit Panel with adhesive arrows
---
Construction
The EDGE-FP panels are etched panel constructed from acrylic material. Double sided panel comes as mirrored configuration. Lettering is 6" high with 3/4" stroke.
Single-Sided Clear Panel
Single-Sided Mirrored Panel
Single-Sided White Panel
Double-Sided Mirrored Panel
Double-Sided White Panel
Installation
The EDGE-FP has two small cut outs to snap in place. Refer to the instructions manual of existing unit to replace the faceplates.
Mounting Configurations Explained
Dimensions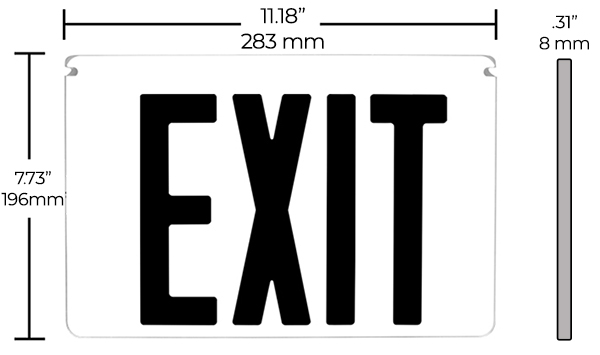 ---
No Questions asked yet!
Post a question and have an expert answer