Steel Housing LED Emergency Light | 2 and 3 Heads Lamps | UL & NYC Approved
Base Code:
EL-STLED

Items marked FAST SHIP typically ship same day if order is placed before noon
---

Download Spec-Sheet
---
---
An efficient and secure steel housing emergency light with ABS thermoplastic LED lamp heads approved for NYC installations. Available in both white and black housing.
Compatible Battery:
White Battery Backup: 9.6V 1000mAh
White and Black Self-Testing: 3.6V 1600mAh

UL Listed
This item has been tested and meets safety standards imposed by the Underwriters Laboratories (UL).

LED Lighting
This unit uses energy efficient and long lasting LED's.

Battery Included
This unit contains a battery for backup power. The battery must be connected during installation.
Features
UL 924, NEC, OSHA and NFPA 101 Life Safety Code
Approved for New York City Code requirements
Rugged 20 gauge steel housing and ABS thermoplastic lamp heads
Universal 120/277 VAC input
Adjustable LED lamp heads
Brown-out protection
Automatic low voltage disconnect (LVD)
Push-to-test switch
Charge rate / power-on indicator light
Previous Product Codes: EL-STLED
Specifications
Dimensions
Height
9.75 - 13.5"
Depth
2.5-.75"
Length
12 - 12.5"
Weight
10.00 lb
What's included?
Steel NYC Approved Emergency Light
LED Lamp Heads
Installation Instructions & Hardware
NiCad Battery - Must connect the battery after installation (Located inside unit)
---
Construction
The EL-STLED Steel Emergency Light is contructed from powder-coated 20-gauge steel with injection-molded thermoplastic heads. White housing is standard and black housing is available.
Illumination
The EL-STLED New York City Approved Emergency Light is designed with adjustable LED lamps. High-performance smooth metal reflector and glass lens for optimal light distribution.
Emergency Operation
Upon failure of the normal utility power, an internal solidstate transfer switch automatically provides uninterrupted emergency operation for at least 90 minutes. The fully automatic solid-state, two-rate charger initiates battery charging to recharge a discharged battery in 24 hours.
Battery - Battery Backup
The EL-STLED series is designed with a maintenance-free NiCad battery that provides a minimum emergency duration of 90 minutes. Recharge time of the battery is 24 hours. Battery Replacement - 3.6V 1600mAh.
Operational Temperature
Temperature Ratings
Standard Option
50°F to 104°F
Photometrics
Total Luminaire Lumens : 330lm
Input Wattage: 2.43W
Input Voltage: 11.02V
Amps: .22
Color Temperature: 6200K
Suggested mounting height of 7.5ft illuminates 1 footcandle (FC) spaced at 35ft for a 3ft path of egress.
Mounting height of 10ft illuminates 1 footcandle (FC) spaced at 30ft for a 3ft path of egress.
Disclosure:
Spacing is measured in lab condition with an assumed open space, no obstruction and reflection rates of 80 (ceiling) / 50 (walls) / 20 (floor). Actual spacing may vary depending on what environment the fixture is installed in.
Self-Testing Option
Continuously monitors the AC power, battery supply voltage, emergency lamp and charging circuit. The multi-color LED indicator light will indicate failure and adjust when it has been corrected. Unit will automatically perform NFPA required monthly and annual testing. Refer to user manual for details.
Electrical Components
Universal voltage input 120-277 VAC operation. LED display indicates AC/ON. An external push button test switch allows maintenance personnel to quickly determine the operational status of the unit. Unit offers surge protected, solid state circuitry.
Installation
The EL-STLED is suitable for wall installation. Knockouts are located on the back of the unit for easy mounting configurations.
Mounting Configurations Explained
Dimensions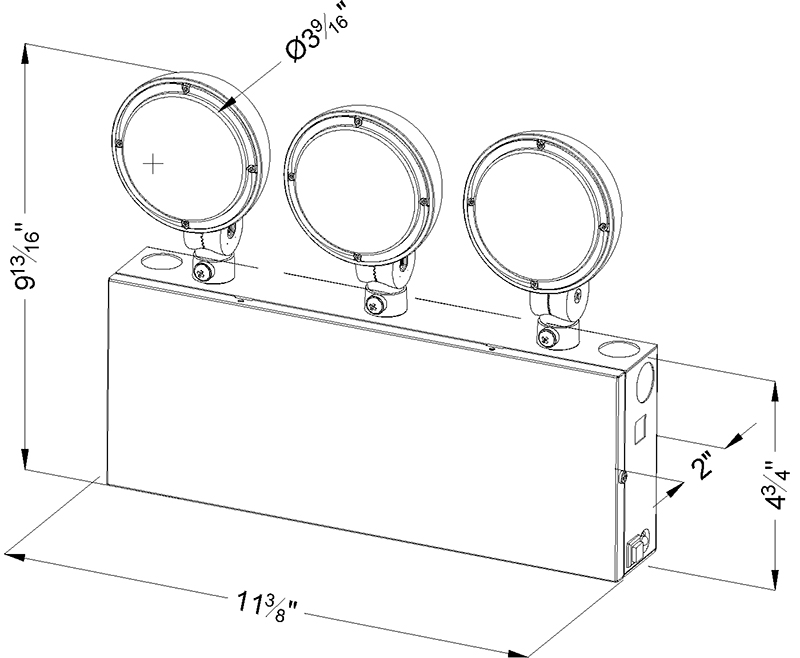 ---
Customer Questions & Answers
Post a question and have an expert answer
Q
Tim McGhee • 01/09/2019, 3:48:34 PM
im curious about the maximum recommended height on these units?
A
Exit Light Co.

These units are rated at the recommended mounting height of 7.5 ft.
Q
Gary Bowling • 01/15/2019, 10:38:31 AM
Concerning your Steel NYC LED Emergency Light | 2 Head what is the wattage of the LED lamps
A
Exit Light Co.

Hello! Each bulb uses less than 2 watts.
Q
Tyler Spier • 03/01/2019, 2:46:21 PM
Is this unit able to support a remote head or two?
A
Exit Light Co.

This unit is not remote head capable.
Q
john prather • 11/20/2019, 4:12:04 PM
does this come in another color
A
Exit Light Co.

The EL-STLED is only available in white.
Q
Mark boyington • 12/25/2019, 11:50:35 AM
Are the light heads adjustable for direction?
A
Exit Light Co.

The heads are adjustable and can swivel for a wider range of coverage.
Q
Roman • 07/20/2020, 1:54:41 AM
What is required distance between the emergency backup lights.
A
Exit Light Co.

We recommend checking with your local fire marshal for this information.
Q
Steven carter • 07/20/2020, 7:41:00 AM
I need a em light mounting @ 24'
A
Exit Light Co.

Unfortunately we do not carry any fixtures rated at a mounting height of 24ft.
Q
Joseph Gulotta • 09/01/2020, 7:56:03 PM
can a plug be installed by the company so the light can be plugged into an outlet. Would this still be code in NYC?
A
Exit Light Co.

This unit does not come with a 3ft Cord option.
Post a question and have an expert answer