Indoor / Outdoor Decorative Emergency Light
Base Code:
ELCEL-XD
---

Download Spec-Sheet
---
---
Contemporary, low-profile architectural emergency egress light. Durable die cast aluminum housing provides both and attractive and dependable egress lighting that complements any exterior design. Also a great choice for cold, damp, or wet environments.
Housing available in dark bronze, white or black (additional costs may apply)

UL Listed
This item has been tested and meets safety standards imposed by the Underwriters Laboratories (UL).

LED Lighting
This unit uses energy effecient and long lasting LED's.

Battery Included
This unit contains a battery for backup power. The battery must be connected during installation.
Features
UL924, NFPA70, NFPA101, NEC700.16 and OSHA
Listed for damp or wet location: 32 - 122°F / 0 - 50°C
Die cast aluminum housing
UV Stable polycarbonate lens and mirrored reflector
UL94-5VA Flame rating on polycarbonate
Includes self test and manual push-to-test switch
Universal transformer for 120 or 277 VAC operation (60 Hz)
Wall or ceiling mount with quick connect mount
Optional cold weather package: 0 - 122°F / -18 - 50°C
Maintenance-free battery
Low voltage disconnect (LVD)
Charge rate / power on indicator
Previous Product Codes: ELX-D
Specifications
Dimensions
Width
6.54"
Height
10.47"
Depth
3.78"
Weight
6.00 lb
Whats included?
Dark Bronze, White, or Black Indoor/Outdoor LED Light
Installation Instructions & Hardware
NiCad Battery - Must connect the battery after installation (Located inside unit)
---
Construction
The ELCEL-XD light is constructed from premium die cast aluminum components and is available in three colors. There are two 6V / 6W Xenon Lamps for Emergency Operation.
Photometrics
Total Luminaire Lumens : 351.3
Remote Head Capable Option
Remotes units are supplied without battery or charging unit. Remote may be run off any standard emergency lighting unit supplying 6V and at least 12W of remote power. Remote units may only apply housing color options.
Electrical Components
120/277VAC dual primary 60Hz operation. Standard unit includes G2 selftest/diagnostics.

View Installation Instructions
Dimensions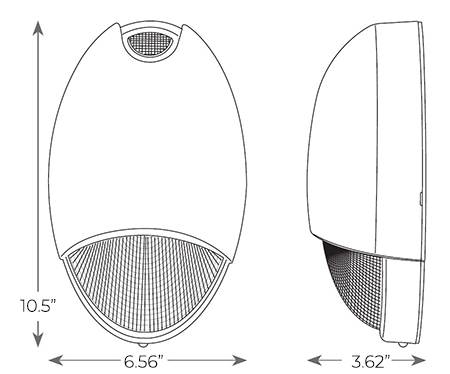 ---
Customer Questions & Answers
Post a question and have an expert answer
Q
Josh • 03/18/2019, 3:56:34 PM
Can this be wired as a normal light fixture that operates on a photocell to provide exterior lighting and be wired to serve as an emergency light if power is lost?
A
Exit Light Co.

This unit is designed as an emergency light only. It is not designed to work with a photocell or with a light switch.
Post a question and have an expert answer