Vandal Resistant Cover for Tritium Self Luminous Signs
Base Code:
SL-VR

Items marked FAST SHIP typically ship same day if order is placed before noon
---

Download Spec-Sheet
---
Protect your Tritium Self Luminous Exit Sign with this vandal proof cover.
Features
Thick polycarbonate protective face shield
For use in any high traffic establishments where tampering is an issue
Heavy duty extruded aluminum frame
Frame can not be pulled from the wall (edgeless frame)
Frames comes with screws for mounting
Specifications
Dimensions
Width
18.75"
Height
11.75"
Depth
1.63"
Weight
8.00 lb
What's included?
White or Black Vandal Resistant Cover
Mounting Hardware

---
Construction
The SL-VR Vandal Resistant Cover is a heavy duty institutional frame powder coated with a white or black finsih on 13 gauge steel. It features 45° sloped sides with welded and ground corners with 3/8" thick polycarbonate window that protects the tritium exit sign.
Installation
The SL-VR Vandal Resistant Cover is designed for wall mount and includes screws for mounting.
Mounting Configurations Explained
Dimensions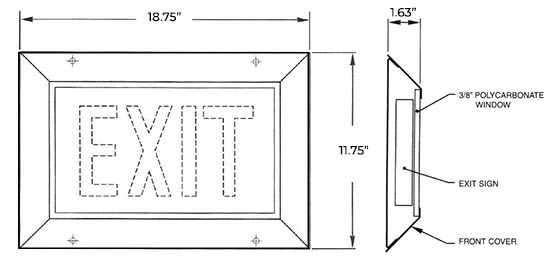 ---
Customer Questions & Answers
Post a question and have an expert answer
Q
Dianne Faulkner • 01/07/2020, 1:23:49 PM
What is the life expectancy of these signs?
A
Exit Light Co.

We offer the 10 year or 20 year Tritium Self Luminous Exit Sign.
Post a question and have an expert answer