LED Exit Sign / Emergency Light Combo | NEMA 4X Rated | 7 Day Lead Time
Base Code:
WLCO4X

Items marked FAST SHIP typically ship same day if order is placed before noon
---

Download Spec-Sheet
---
---
The WLCO4X Combo Exit Sign combines energy-saving LED technology, with the added safety of an exit sign and emergency lighting combination, and a durable enclosure suitable for hazardous location. UL Listed for use in NEMA4X rated areas. The unit offers several levels of protection against the elements, including dust, dirt and water. The exits are designed for use in hostile environments that would otherwise damage ordinary sign components. Constructed of impact resistant fiberglass reinforced polyester. Corrosion-resistant enclosure with one piece, high-impact resistant, UV stabilized polycarbonate lens and molded gasket with stainless steel screws is included.
Features
UL924, NFPA 101 Life Safety Code, NEC, OSHA, Local and State Codes

NEMA 4X Rated and IP66 Rated for Ingress Protection
UL Listed for Wet Locations
UL Certified for use in food service operations
120/277 VAC dual-voltage input
Internal solid-state transfer switch
Universal knockout pattern on back
Polycarbonate mounting canopy included top or end mount
Specifications
Dimensions
Height
14.18"
Depth
4"
Length
13.12"
Weight
15.00 lb
What's included?
Red or Green LED NEMA Rated Combo Exit Sign
Mounting Hardware
Installation Instructions
---
Construction
The WLCO4X Combo Exit Sign series is contructed of reinforced polycarbonate in white or black housing. Corrosion-resistant enclosure with one piece, high impact resistant, UV stabilized polycarbonate lens and molded gasket with stainless steel screws. Tamper-proof hardware is available for unauthorized access to the unit.
Illumination
The WLCO4X Combo Exit Sign series offers two fully adjustable, ultra bright 3.3W high performance MR-16 base LED lamp heads for optimized center to center spacing. Long-life, energency efficient Red or Green LED EXIT sign illumination.
Emergency Operation
Upon failure of the normal utility power, an internal solidstate transfer switch automatically provides uninterrupted emergency operation for at least 90 minutes. The fully automatic solid-state, two-rate charger initiates recharging a discharged battery within 24 hours.
Battery - Battery Backup
The WLCO4X Combo Exit Sign series is designed with a maintenance-free 6V/12V NiCad (12W and 15W Models) or 6V/12V maintenance-free sealed lead acid battery (28W Models) that provides a minimum emergency duration of 90 minutes. Recharge time of the battery is 24 hours.
Operational Temperature
Temperature Ratings
Series
Temperature
12W and 15W Series
0°C to 50°C / 32°F to 122°F
28W Series
10°C to 40°C / 50°F to 104°F

Expanded Temperature Rating
-20C° to 50°C / -4°F to 122°F
Self-Testing Option
Unit will automatically perform NFPA required monthly and annual testing when Self-Testing + Battery Backup Operation is slected. Refer to user manual for details.
Remote Head Capable Option
The remote head capability option allows the WLCO4X unit to supply power to additional 6V/12V remote heads. The remote heads would then operate on the same emergency mode as the standard units (see Emergency Operation Section).
Electrical Components
120/277 VAC operation. LED display indicates AC/ON. Unit offers surge protected, solid state circuitry. Battery backup models offer an external push button test switch, brownout detection, AC lockout, low voltage disconnect and visual LED system fault indicator.
Installation
The WLCO4X Combo Exit Sign series is suitable for wall, ceiling and side mount (Polycarbonate mounting bracket included). Knockouts provided for conduit feed applications.
Mounting Configurations Explained
Dimensions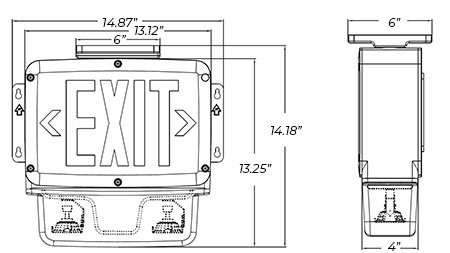 ---
Customer Questions & Answers
Post a question and have an expert answer
Q
Douglas Worth • 10/04/2021, 3:10:30 PM
Can I pipe into top of wall mount unit ? Or would it go onto outdoor box ?
A
Exit Light Co.

The WLCO4X series has knockouts for conduit. The mounting bracket itself has a hole in the middle to run wires and conduit through it. Both top and side mount.
Post a question and have an expert answer