Wet Location Combo Green Exit Sign | Round LED Lamps
Base Code:
WLTCOMBO-G

Items marked FAST SHIP typically ship same day if order is placed before noon
---

Download Spec-Sheet
---
Our most popular wet location combo unit for its attractive design with rounded edges. This ultrabright, compact unit provides the affordability you've been looking for in a high-end package. Adjustable lamp heads can be pointed downward to light the path to safety. Long-life LEDs and NiMh battery make this unit energy efficient and maintenance-free! Includes two "exit" faceplates and a blank faceplate. The faceplates have two knock-out chevrons for easy customization. Perfect for wall or end mounting. The standard unit is capable of operating in temperatures 32°F to 104 °F. The Remote Head Capable model allows for additional 3.6V remote lamp heads to be connected and wired at a different location where additional lighting is needed – See
"Remote Head Capable"
section for more. information.
Compatible Battery: BAA-3618
Compatible Remote Head(s): RHB-L and RHB-WPL
To use with with remote heads, please change the Operation Type above to Battery Remote Head Capable (3.6V) to ensure compatibility. Code at time of checkout must read: WLTCOMBO-G-W-RH.

UL Listed
This item has been tested and meets safety standards imposed by the Underwriters Laboratories (UL).

LED Lighting
This unit uses energy efficient and long lasting LED's.

Battery Included
This unit contains a battery for backup power. The battery must be connected during installation.
Features
UL 924, NEC, OSHA, NFPA 101 Life Safety Code, and Listed for Wet Locations
Round LED Lamps
Maintenance free NiCad battery (Included)

Fixture can be single or double sided
Ultra bright LEDs
Push-to-test switch
120 or 277 VAC operation
Extremely low operating costs
Removable directional indicators
5VA Flame retardant, UV stabilized polycarbonate enclosure
Optional 3.6V Remote Head Option (Supports two single or one double head)
Specifications
Dimensions
Height
13.5"
Depth
2.5"
Length
12.5"
Weight
10.00 lb
What's included?
GREEN LED Outdoor Combo Exit Sign / Emergency Light
Two "EXIT" Faceplate (with optional knockout arrows)
One Blank Faceplate
Mounting Canopy, Installation Instructions & Hardware (Inside Unit)
NiCad Battery - Must connect the battery after installation
---
Construction
The WLTCOMBO-G series is constructed of 5VA flame retardant, UV stabilized polycarbonate housing. High impact, UV stabilized polycarbonate lens included, some discoloration may occur over time if installed in direct sunlight. Fully gasketed with engineering grade silicone. Grey housing is standard.
Illumination
The WLTCOMBO-G series uses ultra bright, energy efficient red or green LEDs. Features 2 fully adjustable LED lamp heads.
Emergency Operation
Upon failure of the normal utility power, an internal solidstate transfer switch automatically provides uninterrupted emergency operation for at least 90 minutes. The fully automatic solid-state, two-rate charger initiates battery charging to recharge a discharged battery in 24 hours.
Battery - Battery Backup
The WLTCOMBO-G series is designed with a maintenance-free NiCad battery that provides a minimum emergency duration of 90 minutes. Recharge time of the battery is 24 hours. The battery is protected by a low voltage cut-off circuit.
Operational Temperature
Temperature Ratings
Series
Temperature
Standard Option
10°C to 40°C / 50°F to 104°F
Photometrics
Total Luminaire Lumens : 170lm
Input Wattage: 2.33W
Input Voltage: 3.6V
Amps: .646
Standard mounting height of 7.5ft illuminates 1 footcandle (FC) spaced at 22ft for a 3ft path of egress.
Standard mounting height of 7.5ft illuminates 1 footcandle (FC) spaced at 18ft for a 6ft path of egress.
Disclosure:
Spacing is measured in lab condition with an assumed open space, no obstruction and reflection rates of 80 (ceiling) / 50 (walls) / 20 (floor). Actual spacing may vary depending on what environment the fixture is installed in.
Remote Head Capable Option
The remote head capability option allows the WLTCOMBO-G unit to supply power to up to two single or one double 3.6V LED remote heads. The remote heads would then operate on the same emergency mode as the standard units. This unit only supports LED remote heads.
Electrical Components
Dual voltage input 120/277 VAC operation. LED display indicates AC/ON. An external push button test switch allows maintenance personnel to quickly determine the operational status of the unit.
Installation
The WLTCOMBO-G combination unit is suitable for surface wall and end mounting. Suitable for indoor and wet location installations.
Mounting Configurations Explained

View Installation Instructions
Dimensions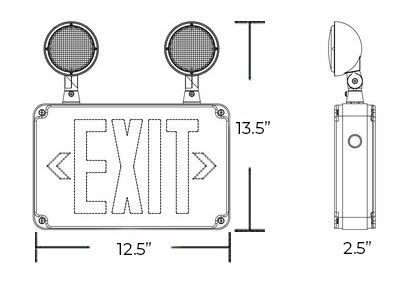 ---
Customer Questions & Answers
Post a question and have an expert answer
Q
Tom Irwin • 11/22/2019, 2:21:52 PM
how do the remote heads operate ? Are they in lieu of the 2 standard emergency lights depicted on the unit.What is the distance limitation on the remote e heads
A
Exit Light Co.

The two lights on this unit would still operate as normal. If the Remote Head option is selected, it can power and addition remote head elsewhere (2 single head or 1 double head).
Post a question and have an expert answer