Steel Recessed LED Emergency Light | 2 Head | Remote Capable
Base Code:
EL-R2HLED

Items marked FAST SHIP typically ship same day if order is placed before noon
---

Download Spec-Sheet
---
---
An Energy Efficient Emergency Light made from durable 20 gauge steel. Two 1W white LED lamp heads with chrome-plated metal reflectors and plastic lens for great light output. Remote capability of 10 watts on standard model. Includes maintenance-free backup battery, works on either 120 or 227 VAC.
Compatible Battery: B6V4A
Compatible Remote Head(s): RHP-L-3V, RHB-L-MV, RHB-WPL-MV
To use with remote heads, please change the Operation Type above to Battery Backup + Remote Head Capable to ensure compatibility. Code at time of checkout must read: EL-R2HLED-W-BB.

UL Listed
This item has been tested and meets safety standards imposed by the Underwriters Laboratories (UL).

LED Lighting
This unit uses energy efficient and long lasting LED's.

Battery Included
This unit contains a battery for backup power. The battery must be connected during installation.
Features
Meets UL924, NFPA 101 Life Safety Code, NEC, OSHA, Local and State Codes.
Listed for Dry Location

Includes two 1 watt LED lamps
Complete kit as shown
Includes hanging T-Bar kit
Ceiling Cut-Out Template Size 11" x 6.25"
Comes standard with 10 watts of remote head capacity
Push-to-test switch
Universal transformer for 120 or 277 VAC operation
Maintenance-free sealed battery
Charge rate / power on LED indicator light
Previous Product Codes: EL-R2HLED
Specifications
Dimensions
Width
9"
Height
10"
Length
13.25"
Weight
8.00 lb
What's included?
Steel LED Recessed Emergency Light
6V SLA Battery - Must connect the battery after installation
Hanging T-Bar Kit
Two 1W LED Lamps
Ceiling Cut-Out Template
---
Construction
The EL-R2HLED is constructed from durable 20-gauge steel trim plate in white or black finish. Trim securely attached to housing with spring clips. UL Listed for dry locations. (25°C)
Illumination
The EL-R2HLED series features two fully adjustable 1.0W white LED lamp heads. High performance chrome-plated metal reflectors and plastic lens for optimal light distribution.
Emergency Operation
Upon failure of the normal utility power, an internal solidstate transfer switch automatically provides uninterrupted emergency operation for at least 90 minutes. The fully automatic solid-state, two-rate charger initiates battery charging to recharge a discharged battery in 24 hours.
Battery - Battery Backup
6V maintenance-free, rechargeable sealed lead acid battery. Internal solid-state transfer switch automatically connects the internal battery to lamp heads for minimum 90-minute emergency illumination. Fully automatic solid-state, two rate charger initiates battery charging to recharge a discharged battery in 24 hours.
Photometrics
Total Luminaire Lumens : 90lm
Input Wattage: .549W
Input Voltage: 3.6V
Remote Head Capable Option
The EL-R2HLED has 10 watts of additional remote capacity. 6 volt remote heads are required and will maintain brightness for a minimum of 90 minutes.
Electrical Components
Dual 120/277 voltage. Charge rate/power "ON" LED indicator light and push-to-test switch for mandated code compliance testing. LVD (low voltage disconnect) prevents battery from deep discharge. Remote capacity of 10W standard.
Installation
Bar hangers on the back box for recessed mount. Compatible with drop ceiling mount installations. Bar hangers included.
Mounting Configurations Explained

View Installation Instructions
Dimensions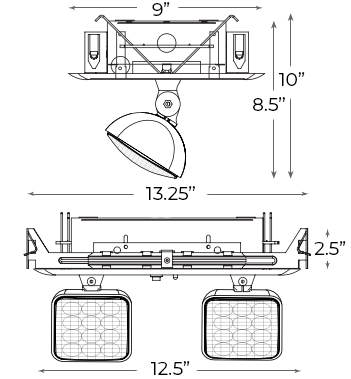 ---
Customer Questions & Answers
Post a question and have an expert answer
Q
Susan Gradman • 05/28/2019, 4:52:38 PM
I would like to replace an old recessed emergency light. The cutout for the existing metal box is 10.25" X 6.25". Will your unit work in the existing cutout?
A
Exit Light Co.

The dimensions of this unit can be found on the spec sheet and at the bottom of the product page underneath the Installation section.
Post a question and have an expert answer