LED Weatherproof Emergency Light Remote Head | Single or Double
Base Code:
ELCRHB-WPL
---

Download Spec-Sheet
---
---
Extend your current LED emergency lighting with this gray weatherproof remote head. Constructed to withstand the elements and designed to work with energy efficient remote head capable emergency lights or combination fixtures.
Available in 3.6V for use with the ELCEL-2, ELCEL-M2, ELCCOMBOJR2-R, ELCCOMBOJR2-G, ELCCOMBO2-R, and ELCCOMBO2-G units.
Available in 9.6V for use with the ELCCOMBO-LP (with remote capability option).

Self Testing option allows unit to test every 28 days for 5 minutes and 90 minutes every 6 months.
Distance of maximum run is determined by system voltage, wire gauge and total maximum wattage on the run.


UL Listed
This item has been tested and meets safety standards imposed by the Underwriters Laboratories (UL).

LED Lighting
This unit uses energy effecient and long lasting LED's.

Light Bulb(s) Included
This unit includes light bulb(s).
Features
UL 924, NEC, OSHA and NFPA 101 Life Safety Code requirements.

Adjustable weatherproof 12 LED lamp head

Constructed of gray spec grade die cast aluminum

For use with any remote head capable emergency light or exit sign with matching voltage
Previous Product Codes: RHB-WPL1 and RHB-WPL2
Specifications
Dimensions
Width
4.25"
Height
6.625"
Weight
2.00 lb
Whats included?
Single or Double Lamp LED Remote Head
(1) Weatherproof Seal
Mounting Hardware
---
Construction
The ELCRHB-WPL is available in a premium grade die-cast aluminum housing. Sealed and gasketed weatherproofing in standard gray.
Illumination
The ELCRHB-WPL has long lasting, efficient, ultra bright white LED lamp heads. High performance chrome-plated metallized reflector and glass lens with 8 or 12 LED's in each lamp head for optimal light distribution. Adjustable LED lamp heads increases center-to-center spacing.
Electrical Components
Powered from low voltage power source with low voltage wiring (not provided).
Installation
The ELCRHB-WPL has a universal mounting base mounts to singlegang switch box. Distance of maximum run is determined by system voltage, wire gauge and total maximum wattage on the run. Suitable for wall or ceiling mount.
Mounting Configurations Explained
Dimensions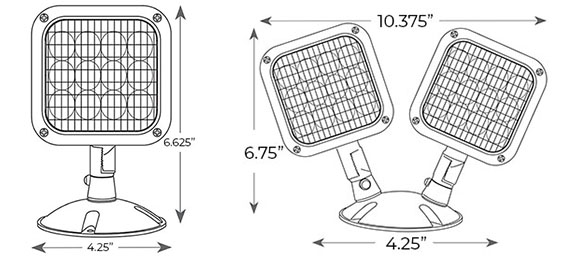 ---
Customer Questions & Answers
Post a question and have an expert answer
Q
Marcus Roth • 05/22/2019, 8:53:32 AM
The double head weatherproof emergency light remote head single or double, if I get the double will the battery pack last one and a half hours for a code? I am using the ELCCOMBOJR with the RH larger battery pack.
A
Exit Light Co.

When pairing the ELCRHB-WPL with the ELCCOMBOJR-RH, both units will last a minimum of 90 minutes as required by code.
Post a question and have an expert answer