Standard Red LED Exit Light Combo | 180° Adjustable Head
Base Code:
COMBO2-R

Items marked FAST SHIP typically ship same day if order is placed before noon
---

Download Spec-Sheet
---
---
One of our most popular units for its classic design, 180° adjustable heads, durability, and cost-effectiveness. The unit comes with two "EXIT" faceplates and one blank faceplate, for single or double-sided use. The faceplates include knockout chevrons, which allow the customer to customize the directional arrows. This exit sign operates at 120/277 VAC. Includes hardware for wall or ceiling installation. Comes with a modern and reliable NiCad battery providing 90 minutes of emergency lighting. The Remote Head Capable model allows for additional 3.6V remote lamp heads to be connected and wired at a different location where additional lighting is needed – See
"Remote Head Capable"
section for more information. The optional Self-Testing model is a great solution where manual testing is not possible or practical. The unit will perform the required NFPA testing and indicate the outcome of the test – See the
"Self-Testing"
section for more information. This unit also comes with an option for a 3' Cord when hardwired installation is not an option.
Compatible Battery: Battery Backup Model: BAA-36
Remote Head Capable Model: BAA-3618
Compatible Remote Head(s): RHP-L-3V, RHB-L-MV, RHB-WPL-MV
To use with with remote heads, please change the Operation Type above to Battery Backup + Remote Head Capable to ensure compatibility. Code at time of checkout must read: COMBO2-R-W-RH.

UL Listed
This item has been tested and meets safety standards imposed by the Underwriters Laboratories (UL).

LED Lighting
This unit uses energy efficient and long lasting LED's.

Battery Included
This unit contains a battery for backup power. The battery must be connected during installation.
Features
UL 924, NEC, OSHA and NFPA 101 Life Safety Code
Listed for damp location
All LED light! No SLA batteries, uses long lasting NiCads that are very low maintenance (battery included)
Two fully adjustable Emergency Light heads designed to point down and light the path of egress
Injection molded, 5VA flame retardant thermoplastic housing
120/277 VAC operation
Universal mounting plate
Knock-out left/right arrows
Short circuit, voltage surge, brown out and low battery voltage disconnect protected
LED indicator light with push-to-test switch
Previous Product Codes: COMBOR2, COMBO-R2
Specifications
Dimensions
Width
20"
Height
8"
Depth
2"
Weight
8.00 lb
What's included?
RED LED Combo Exit Sign / Emergency Light
Two "EXIT" Faceplates (with optional knockout arrows)
One Blank Faceplate
Mounting Canopy, Installation Instructions & Hardware (Inside Unit)
NiCad Battery - Must connect the battery after installation
---
Construction
The COMBO2-R series is contructed from injection-molded, high-impact, engineering-grade, 5VA flame retardant thermoplastic. White housing is standard.
Illumination
Emergency lamps use long-lasting, energy efficient ultra bright white LEDs. Heads are made with high-performance chromeplated reflectors and polycarbonate lenses for optimal light distribution. Exit portion uses red or green LEDs.
Emergency Operation
Upon failure of the normal utility power, an internal solidstate transfer switch automatically provides uninterrupted emergency operation for at least 90 minutes. The fully automatic solid-state, two-rate charger initiates recharging a discharged battery within 24 hours.
Battery - Battery Backup
The COMBO2-R Combo Exit Light is designed with a maintenance-free 3.6V 100mAh NiCad battery that provides a minimum emergency duration of 90 minutes. Recharge time of the battery is 24 hours.
Operational Temperature
Temperature Ratings
Standard Option
68°F to 86°F
Photometrics
Total Luminaire Lumens : 275lm
Standard mounting height of 7.5ft illuminates 1 footcandle (FC) spaced at 18ft for a 3ft path of egress.
Self-Testing Option
Unit continuously monitors the AC power, battery supply voltage, emergency lamp condition and charging circuit. If failure is detected, the indicator will show status and correct when adjusted. Unit will automatically perform NFPA required monthly and annual testing. Refer to user manual for details.
Remote Head Capable Option
The remote head capability option allows the COMBO2 unit to supply power to up to two additional 3.6V LED remote heads. The remote heads would then operate on the same emergency mode as the standard units (see Emergency Operation Section).
Electrical Components
120/277 VAC operation. LED display indicates AC/ON. An external push button test switch allows maintenance personnel to quickly determine the operational status of the unit. Unit offers surge protected, solid state circuitry.
Installation
The COMBO2-R is suitable for surface wall and top mounting via included canopy. Snap together design allows for quick and easy installation. Knock-out chevrons for customized egress signage.
Mounting Configurations Explained

View Installation Instructions
Dimensions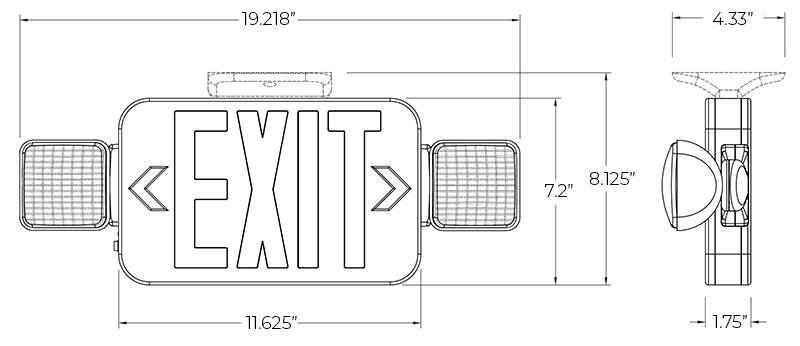 ---
Customer Questions & Answers
Post a question and have an expert answer
Q
Joe casertano • 02/19/2019, 11:35:46 AM
Does the standard red led exit light meet nyc standards and is the exit sign lite up red
A
Exit Light Co.

The ELCCOMBO2-R is not NYC approved. NYC code requires Red 8" letters and Steel housing. The ELCCOMBO2-R has the standard 6" lettering ans is made out of thermoplastic.
Q
PJ Lemons • 06/03/2019, 2:38:07 PM
Do you offer a Exit Sign / E-Light Combo Unit with remote testing?
A
Exit Light Co.

The ELCCOMBO2-R is available with the self testing feature. However, it does not feature a remote testing option. To manually test the unit, the test button would have to be pressed on the unit itself.
Q
David Windham • 06/14/2019, 10:42:10 AM
How much current does this Exit sign draw
A
Exit Light Co.

The ELCCOMBO2-R draws less than 5 watts.
Q
James E Morganson • 06/24/2019, 10:43:12 AM
Want to start a program of Exit and Emergency light self reporting. But not sure where the devices report to ? What type of setup equipment is required ?
A
Exit Light Co.

The ELCCOMBO2-R does come with a Self Testing option. It continuously monitors the AC power, battery supply voltage, emergency lamp condition and charging circuit. If failure is detected, the indicator will show status and correct when adjusted. Unit will automatically perform testing for five minutes every 28 days and 90 minutes every six months.
Q
Chris • 09/06/2019, 3:12:41 PM
What is the expected battery life?
A
Exit Light Co.

These Nicad batteries have a expected life span of 3-7 years depending on their use.
Q
George Ugarte • 09/10/2019, 10:41:47 PM
Where can I buy the small transaformer that is part of the exit light combo MJ -002. 277V 120V. OV Thank you George Ugarte
A
Exit Light Co.

Spare parts are not available for these units.
Q
Hector Hernandez • 11/16/2019, 12:13:40 PM
Is this fixture Chicago Approved?
A
Exit Light Co.

This unit is not City of Chicago approved. In the search bar please search "Chicago" for our selection of City of Chicago approved fixtures.
Q
Christine Barr • 11/21/2019, 3:29:18 PM
Do you sell replacement parts. We need to replace a cracked light cover for COMBO-2-R
A
Exit Light Co.

Replacement parts are not available.
Q
David McKeown • 07/21/2020, 1:18:46 PM
Is the exit part of sign always lit, then convert to battery back-up when power lost?
A
Exit Light Co.

Correct. The word Exit is always on. The emergency lights only turn on when the power goes out and the unit switches over to the back up battery.
Q
Levi • 01/13/2021, 3:19:51 PM
Does this sign come with the batteries? Or do I need to purchase them separate?
A
Exit Light Co.

The back up battery is included.
Post a question and have an expert answer