LED Recessed Emergency Light | Ceiling and Wall Mount | Adjustable Lamps
Base Code:
EL-RSLIM

Items marked FAST SHIP typically ship same day if order is placed before noon
---

Download Spec-Sheet
---
---
The EL-RSLIM is one of a kind recessed mount emergency light. Its aluminum alloy trim plate and adjustable LED lamps make this emergency light great for architectural installation, both business and commercial. Easy installation in both sheet-rock and drop ceiling/remodel applications.

UL Listed
This item has been tested and meets safety standards imposed by the Underwriters Laboratories (UL).

LED Lighting
This unit uses energy efficient and long lasting LED's.

Battery Included
This unit contains a battery for backup power. The battery must be connected during installation.
Features
UL 924, NEC, OSHA and NFPA 101 Life SafetyCode

Listed for damp location IP20 Rated
Recessed Mount - Ceiling and Wall
Aluminum Alloy Housing
Long life LED illumination
3W Power Consumption
Test switch and charge rate indicator on battery backup models
Dual 120/277 volt operation
Specifications
Dimensions
Width
2.75"
Height
.41"
Depth
2.98"
Length
10.62"
Weight
5.00 lb
What's included?
Recessed Emergency Lights
Installation Instructions & Hardware
Battery - Must connect the battery after installation (Located Inside Unit)
---
Construction
The EL-RSLIM recessed emergency light housing is constructed aluminum alloy. Aluminum housing color is standard.
Illumination
The EL-RSLIM recessed emergency light series provides a long life LED illumination. Battery backup units energy consumption is rated at less than 3 watts. The emergency light features adjustable lamps with a 30°, 45°, and 60° beam angel.
Emergency Operation
Upon failure of the normal utility power, an internal solidstate transfer switch automatically provides uninterrupted emergency operation for at least 90 minutes. The fully automatic solid-state, two-rate charger initiates battery charging to recharge a discharged battery in 24 hours.
Battery - Battery Backup
The EL-RSLIM recessed emergency light is designed with a 3.6V 1800mAh maintenance-free NI-MH battery.
Operational Temperature
Temperature Ratings
Battery Backup
5°C to 40°C / 41°F to 104°F
Photometrics
Total Luminaire Lumens : 250
Input Wattage: 1.8W
Input Voltage: 3.6V
Amps: .02
Standard mounting height of 7.5ft illuminates 1 footcandle (FC) spaced at 24ft for a 3ft path of egress.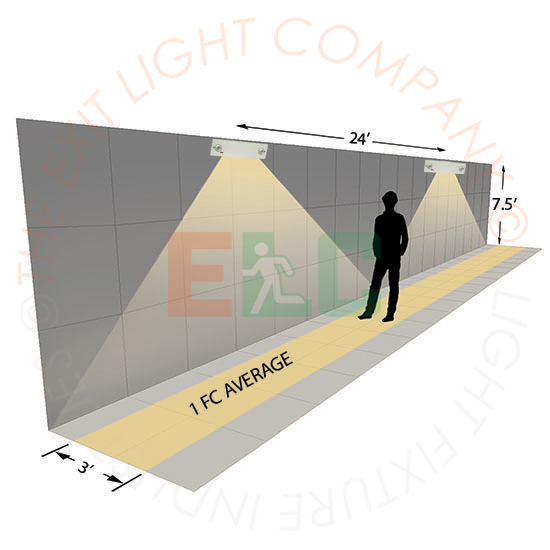 Electrical Components
Dual voltage input 120/277 VAC operation. LED display indicates AC/ON. An external push button test switch allows maintenance personnel to quickly determine the operational status of the unit.
Installation
The EL-RSLIM recessed emergency light is suitable for recessed wall and ceiling mounting. All hardware is included.
Mounting Configurations Explained
Dimensions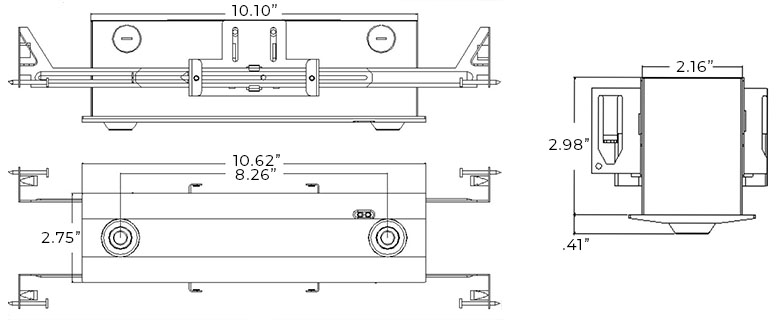 ---
Customer Questions & Answers
Post a question and have an expert answer
Q
Devora Schwartz • 10/29/2021, 9:42:14 AM
I am looking for a ceiling mounted emergency light for a double height space. We need to mount these at 27' above the finish floor and they need to be approved for NYC use. Does the LED Recessed Emergency Light | Ceiling and Wall Mount | Adjustable Lamps Base Code: EL-RSLIM comply with this height requirement
A
Exit Light Co.

Thank you for your question. The EL-RSLIM is only suitable for mounting heights of 7.5' - 10'.
Post a question and have an expert answer