Edge Lit Green LED Exit Sign | Surface Mount | Adjustable Angle
Base Code:
ELRT-G

Items marked FAST SHIP typically ship same day if order is placed before noon
---

Download Spec-Sheet
---
---
The ultimate exit sign in design and versatility. This Green LED Edge Lit Exit Sign will solve almost any mounting configuration problem. This one style allows for ceiling, side, and wall mount installation. The edge lit panel is constructed of high grade acrylic with customizable directional arrows to point towards exit direction. The removable front cover makes installation and maintenance headache-free!
Available in Recessed Mount (ELRT-G-RM)
Compatible Battery: B3A-48
How To: Replace battery and faceplates

UL Listed
This item has been tested and meets safety standards imposed by the Underwriters Laboratories (UL).

LED Lighting
This unit uses energy efficient and long lasting LED's.

Battery Included
This unit contains a battery for backup power. The battery must be connected during installation.
Features
UL 924, NEC, OSHA and NFPA 101 Life SafetyCode
Listed for damp location
Most versatile edge lit exit sign on the market
Wall, sloped, high, or standard ceiling and recessed mount available
Aluminum housing with high grade acrylic face
Field Installable Arrows for Left, Right or Both directions.
Long life LED illumination
Test switch and charge rate indicator on battery backup models
Dual 120/277 volt operation
CEC Compliant

Previous Product Codes: ELRTG
Specifications
Dimensions
Width
12"
Height
9.75"
Depth
1.75""
Weight
5.00 lb
What's included?
GREEN LED Exit Sign
Clear Single Sided "EXIT" Faceplate (with optional adhesive arrows)
Mirrored Double Sided "EXIT" faceplate (extra cost)
Mounting Canopy, Installation Instructions & Hardware
NiCad Battery - Must connect the battery after installation
---
Construction
The ELRT-G Edge Lit Exit Sign housing is constructed of die-cast aluminumhousing with an etched, clear acrylic panel. Double sided panel comes as mirrored configuration. Lettering is 6" high with 3/4" stroke. Aluminum housing is standard, black and white housing available.
Illumination
The ELRT-G Exit Sign series provides a long life LED illumination. The unit is constructed with a red or green high output LED board. Energy consumption is rated at less than 3 watts for the AC only model units. Battery backup units energy consumption is rated at less than 5 watts.
Emergency Operation
Upon failure of the normal utility power, an internal solidstate transfer switch automatically provides uninterrupted emergency operation for at least 90 minutes. The fully automatic solid-state, two-rate charger initiates battery charging to recharge a discharged battery in 24 hours.
Battery - Battery Backup
The ELRT-G series is designed with a 4.8 Volt maintenance-free NiCad battery. The battery is protected by a low voltage cut-off circuit. The operating temperature range for the battery is 32°F (0°C) to 104°F (40°C).
Self-Testing Option
This unit continuously self checks for proper operation. The multi-color LED indicator light will indicate the status after testing and adjust when corrected. The unit will self test in emergency mode for up to the full 90 minute duration to ensure proper operation during an actual power failure.
Electrical Components
Dual voltage input 120/277 VAC operation. LED display indicates AC/ON. An external push button test switch allows maintenance personnel to quickly determine the operational status of the unit. Unit offers brown out, overload and short circuit protection.
Installation
The ELRT-G Sign is suitable for wall, sloped, high, or standard ceiling mounting. Recessed mounting option allows unit to be ceiling recessed for drop ceiling or new construction application only. Includes field installable directional arrow indicators. All hardware is included.
Mounting Configurations Explained

View Installation Instructions
Dimensions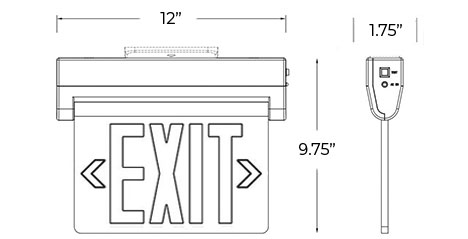 ---
Customer Questions & Answers
Post a question and have an expert answer
Q
Nick • 07/31/2019, 11:10:39 AM
Is the self testing an option or is it on every green acrylic exit? Have have problems with self testing units with power surges or dirty power.
A
Exit Light Co.

The ELRT-G unit does not have a self testing option.
Q
Timothy Scholes • 10/09/2019, 10:53:42 AM
How are the arrows done? I need two exit signs with the arrow pointing away from the "E'
A
Exit Light Co.

The ELRT units come with arrows that can configured during installation.
Q
Gabrielle • 01/11/2021, 3:21:32 PM
We may not be able to hardwire the exit sign for some time. For how many hours does the battery operation last?
A
Exit Light Co.

The battery should last a minimum of 6 months if the unit is not installed. Please note, it may take up to 48 hours to charge once the unit is fully installed.
Q
Marvin McConaghy • 11/13/2023, 5:04:54 PM
Can this sign be mounted at the top or side (as in a blade sign configuration)?
A
Exit Light Co.

The ELRT series can be mounted on its side and ceiling (top) using the included mounting bracket.
Post a question and have an expert answer